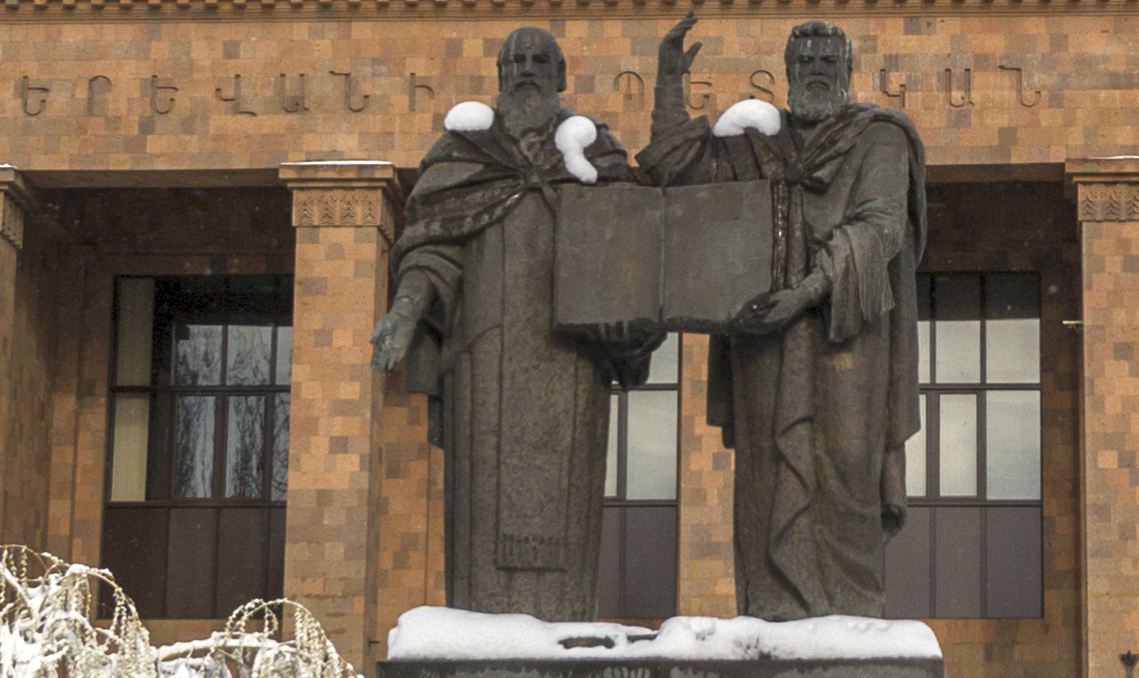 The Melikian Center has deep ties to Yerevan State University, whose faculty have contributed to teaching Armenian at the Critical Languages Institute for many years. The Melikian Center played a supporting role in the creation of a public policy program, including a Masters' program which began accepting students in 2016; as well as the establishment of the Center for Gender and Leadership, with start-up support provided by USAID in the years 2012-2105. YSU has also hosted ASU students studying abroad, many of whom participated in the Critical Languages Institute.
In 2019, the Faculty of International Relations at Yerevan State University was awarded funding from the U.S. Embassy to design and launch an American Studies Center to enhance research in American Studies in Armenia and provide advanced degrees in American Studies. YSU leadership proposed to draw on ASU's expertise and experience in the interdisciplinary field. While offering input into curricular organization, ASU is providing in-person training and orientation to YSU teaching faculty in American Studies.
Although Covid-19 delayed the arrival of the first cohort of YSU faculty members, the Melikian Center welcomed six YSU colleagues in the fall of 2021 for a semester-in-residence as they prepared courses and syllabi for the new degree program in American Studies at YSU. The YSU Master's Degree in American Studies admitted its first cohort of students in the fall 2021 semester.
Outcomes
U.S. Ambassador to Armenia, the Honorable Lynne M. Tracy, joined Yerevan State University Rector Hovhannes Hovhannisyan and guests in December 2021 at the official opening of the American Studies Center in YSU's Faculty of International Relations. The Center will be home to the new YSU Master's Degree Program in American Studies, which launched instruction in the fall 2021 semester with ten newly admitted graduate students who have come to the interdisciplinary program with baccalaureate degrees from multiple disciplines in the humanities and social sciences.
Meanwhile, six of the YSU instructional faculty members in the new degree program spent the fall 2021 semester at Arizona State University preparing syllabi and course platforms for twelve of the new classes that will be introduced into the YSU curriculum through the new program—courses ranging from U.S. History and U.S. Geography, to more specialized offerings in U.S. Energy Policy, U.S. Mass Media, and U.S. Immigration and the Armenian Diaspora, among others.
In December 2022, the YSU American Studies Center hosted its first international research symposium, "Armenia, the United States, and Regional Challenges to Global Security." Click here to see the program of the symposium.