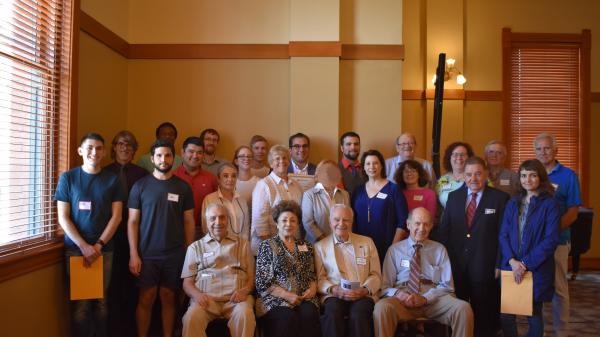 Mary Karapetian Alvord, PhD, is a Psychologist and Director of Alvord, Baker & Associates LLC
in Rockville, MD. She also holds a position of Adjunct Associate Professor of Psychiatry and
Behavior Sciences at The George Washington University School of Medicine and Health Sciences.
Stephen K Batalden, PhD, served as a professor of History at ASU for 40 years and was the 
founding director of the ASU Melikian Center. He is currently a Melikian Center research professor,
leading ASU's contribution to the Yerevan State University American Studies grant program funded
by the US Embassy in Armenia.
Shahin H Berisha [Executive Committee - Board Secretary], PhD, is a retired Faculty Member of the Math and Science Division of GateWay Community College and an Adjunct Professor with the Melikian Center. He has served as a facilitator for the Center's projects with and in Kosovo for 20 years.
Ronald M Birks, MSEE, is a senior software engineer and international representative with Honeywell
International, Inc. He received a BA in Russian and a Russian and East European Studies (REES) Certificate
at ASU and studied Polish and Albanian in the Critical Languages Institute (CLI).
Robert Bohannon
is the former chairman and CEO of Viad Corp.  He currently resides in Texas. 
Keith S Brown [Ex officio], PhD, is Director of the Melikian Center and Professor in the ASU School of Politics and Global Studies. His research has focused primarily on politics, culture and identity in the Balkans, with a particular emphasis on relations between Macedonia, Greece, and Bulgaria.
Philip M Carrano, MPA, is Director of Fiscal Business Services for the ASU College of Health Solutions (CHS). He served for over three years as the business operations manager for the Melikian Center before joining CHS.
Lee B Croft,
PhD, is a Professor Emeritus of Russian Language and Culture at Arizona State University, where he taught and administered foreign language programs for 38 years (1973-2011) and served as Head of the Faculty of German, Slavic, and Romanian from 20
06-2011 in the School of International Letters and Cultures. He is an affiliate of the Melikian Center, ha
ving been a co-founder of its predecessor, the ASU Russian and East European Studies Consortium (
REESC), and co-founder and founding Director of the Center's Critical Languages
Institute (CLI).
Shelley D Cutts, JD, is an Assistant Attorney General for the State of Arizona in the Environmental Enforcement Section. After serving four years as a Russian linguist in the US Army in Augsburg, Germany, she first earned her BA in History at ASU and a Russian and East European Studies (REES) Certificate, then went on to complete her law degree at ASU.
Victor Friedman [Distinguished honorary member], PhD, is the Andrew W. Mellon Distinguished Service Professor Emeritus in the Humanities at the University of Chicago and an Honorary Associate at La Trobe University. He is president of the U.S. National Committee of the International Association for Southeast European Studies. He is also a member of the Macedonian Academy of Arts and Sciences, the Academy of Sciences of Albania, the Academy of Arts and Sciences of Kosova, Matica Srpska, and has been awarded the "1300 Years of Bulgaria" jubilee medal and the Medal of Merit of Macedonia.
Aleksandra Gruzinska, PhD, is an Emeritus Professor in the ASU School of International Letters and Cultures, where she primarily taught courses on 19th Century French literature. Her research interests also include Nobel Prize Polish poet Wislawa Szymborska and Polish writer Witold Gombrowicz. Her longtime interest is the exploration of the fate of unaccompanied Polish children in their trajectory of exile, homelessness, repatriation or immigration, from Poland, by way of Spain, to the U.S. during and after WWII. 
Patience T Huntwork, JD, is a staff attorney at the Arizona Supreme Court. She has served on legal reform projects and as an election observer in Ukraine, and she is a recipient of the Ukrainian Congress Committee of America's "Man of the Year" award. 
Mary "Marcie" J Hutchinson, MA, was a high school History and Government teacher for over 30 years, primarily in Mesa, AZ, and now serves as Clerk of the Governing Board of Mesa Public Schools. For several years, she served as Director of K-12 Initiatives for the ASU School of Historical, Philosophical, and Religious Studies, and was interim Chief of Party in Prishtina, Kosovo, for the Center's "Future Voters of Kosovo" project funded by the U.S. State Department.
David P Jankofsky is a regulatory economist with particular specialties in utility regulation, public financial management, tax administration, and economic development.  He has consulted and conducted training in 66 countries  including Albania, Bosnia and Herzegovina, Georgia, North Macedonia, and Kosovo, and is currently serving as a regulatory expert for an energy project led by Deloitte Consulting in southern Africa.
Michael D Kennedy [Distinguished honorary member], PhD, serves as a Professor of Sociology and International Public Affairs at Brown University. Throughout his career, he has addressed East European social movements, and systemic change, including work in Poland and Kosovo.   
Pauline Komnenich, PhD, serves as a Professor and the Director of the Master of Science in Nursing Program in the ASU Edson College of Nursing and Health Innovation. Her research training includes inter-professional nursing and healthcare education internationally, specifically in the Balkans, and earlier research using ethnoscience/sociolinguistics methodology examining greeting behavior among Serbians and Montenegrins.
Ilene J Lashinsky, JD, serves as lawyer for the US government, working to promote the integrity and efficiency of the bankruptcy system. Previously, she was a practicing commercial and bankruptcy and as such she served for a year as a resident bankruptcy advisor on a commerical law project in North Macedonia. 
Arben Lasku, MD, has lived in the Phoenix area since 1997, when he left his native Albania with his wife to join her parents in Phoenix. He had already established a medical career in Albania, completed a specialization in nuclear medicine in Italy, and was on the faculty of the University of Tirana in Albania. He is an active member of the American-Albanian community in greater Phoenix, playing a leading role in establishing an Albanian language program for school-age children.
Linda Costigan Lederman, PhD, is the immediate past Director of and a Professor in the ASU Hugh Downs School of Human Communication, and a former Dean of Social Sciences in the ASU College of Liberal Arts and Sciences, where she oversaw the activities of the Melikian Center. An expert on communication and substance abuse, her research has been funded by federal agencies such as the National Institute on Alcohol Abuse and Alcoholism, National Institute on Drug Abuse, and the US Department of Education.  
Emma O Melikian has a particular interest in supporting language study as a means to maintain and build peace. Over many years, she has been a supporter of education and the arts in Phoenix and ASU. Emma and her husband Greg were awarded the ASU University Medal of Excellence in 2008 by President Crow for their leadership and civic engagement.
Gregory J Melikian, JD, with his wife, Emma, endowed ASU's Melikian Center: Russian, Eurasian and East European Studies. He practiced real estate law and served as a civil judge in New York, and he has worked in commercial real estate in Phoenix. He was awarded the 2013 Ellis Island Medal of Honor and has been inducted as Chevalier (Knight) in the French Legion of Honor in 2012. As a proud World War II veteran, he served for many years as Luke Air Force Base honorary commander.
Ramona L Melikian [Executive Committee - Board President], MS, began her career at the Council on Foreign Relations in New York after her internship as Assistant to the Director of Communications at the National Council for International Health in Washington, DC. Ramona is currently a Senior Consultant at Right Management, an international organizational consulting firm servicing Fortune Global 500 corporations. She has travelled extensively throughout the former Soviet Union, Europe, and Asia. 
Robert A Melikian, JD, has managed the family's property, the historic Hotel San Carlos in downtown Phoenix about which he has published a book. He is a strong proponent of historic preservation of buildings in Phoenix and around Arizona. 
David A Merkel has served as Deputy Assistant Secretary of State for European and Eurasian Affairs; Director for South and Central Asia Affairs at the National Security Council; Director for European and Eurasian Affairs at the National Security Council; and Deputy Assistant Secretary for International Affairs at the US Treasury Department. He also served as International Counselor to the Chairman of the US Securities and Exchange Commission. He is currently a member of the Board of Trustees of Nazarbayev University in Nur-Sultan, Kazakhstan, and the Josef Korbel School of International Studies Social Science Foundation at the University of Denver.
Claire Sechler Merkel currently serves as Senior Director, Arizona Programs for the McCain Institute for International Leadership at ASU. She served as Associate Director in the White House Office of Cabinet Affairs for President George H.W. Bush, as a Legislative Assistant to US Senator John McCain and aid to Arizona Congressman Jim Kolbe. She was a Regional Director for Eastern and Central Europe at the International Republican Institute, where she worked and traveled in Bulgaria, Romania, Slovakia, Albania, North Macedonia, Lithuania, and Latvia. She founded Sechler Merkel International to provide strategic advice to companies and foundations. 
Stephen Ovanessoff [Executive Committee - Board Treasurer], MD, recently retired as a pathologist. He is an active member of the Armenian-American community in Phoenix and serves on the Parish Council at St. Apkar Armenian Apostolic Church in Scottsdale.
Gabriel "Gabe" H Reuben, EdD, has served as a Superintendent of Schools for the Scottsdale Unified School District and as a school administrator in Missouri, New Jersey, and New York. 
Stella Saperstein is a graduate of the Leningrad Conservatory with a degree in Piano Performance and Piano Pedagogy (college level). She teaches piano at her own Stella Saperstein Piano Studio, and is co-author of the book, The Harmonious Child. She is Treasurer for the Young Artist Committee, Director of Development at USASU Bösendorfer & Yamaha International Piano Competition as well as judge for numerous piano competitions, local and international. She is also a graduate of Moscow State Linguistic University and former escort-interpreter for the US State Department.
Charles "Charlie" Tichy, PhD, served as a Professor of German and Russian for 45 years at Slippery Rock University, PA, and was Chair of the Modern Language Department for 25 years. He published several articles on  higher education distant learning and articulation. Retired in Gilbert, AZ he has taught a course in the ASU Barrett Honors College on Crimea and is an  ASU Associate Professor Emeritus member. He joined the advisory board of the Melikian Center because of the center's elaborate international projects and its developed language institute
Walter "Walt" J Winius, Jr, MBA, for over 60 years conducted real estate and economic market research, analysis and real estate appraisals. He has worked in Ukraine, Bulgaria, Romania, North Macedonia, Poland, Hungary, Czech Republic, Russia, Slovakia, Kazakhstan, Azerbaijan, Georgia, and Mongolia to assist in the privatization of real property and provide teaching assistance to valuers and associated groups.