The Melikian Center hosts a five-day summer orientation programs for Fulbright Foreign Language Teaching Assistants (FLTAs). Conducted on the main Tempe Arizona State University (ASU) campus in metropolitan Phoenix and extending from August 25 to August 29, 2015, the orientation: i) provides an introduction to U.S. academic institutions; ii) provides an overview of Fulbright goals and traditions; iii) introduce latest best practices in language instructions; iv) enables participants to witness the rich diversity of U.S. culture; v) facilitates FLTAs transition into the program, promoting in the process a scholarly exchange between the FLTAs themselves and with the distinguished ASU project team. The orientation addresses these goals through interactive learning, extraordinary cultural programming, and pre- and post-conference interactions on the FLTA site.
This activity is sponsored by the U.S. Department of State's Bureau of Educational and Cultural Affairs as part of the Fulbright Program, the U.S. government's flagship international exchange program supported by the people of the United States and partner countries around the world. For more information, visit http://eca.state.gov/fulbright.
The Fulbright FLTA program is administered by the Institute of International Education .
For more information about Fulbright FLTA program please visit foreign.fulbrightonline.org
Project Name:
Fulbright FLTA Orientation 2015 Summer
Grant Category:
Bureau of Educational and Cultural Affairs - US DOS
ECA - US DOS
IIE
Institute of International Education
Languages
US Dept of State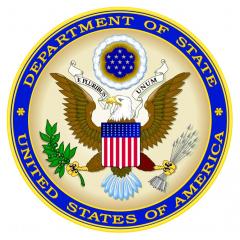 Grant Dates:
Friday, May 1, 2015

to

Wednesday, September 30, 2015