Bosnian/Croatian/Serbian (BCS) - 2nd Year & Advanced
BCS - 8 weeks in Bosnia
Overview
Second-Year BCS study abroad in Sarajevo, Bosnia and Herzegovina
Students solidify their command of Bosnian/Croatian/Serbian (BCS) and raise their listening, speaking, and communicative skills to the Intermediate Low level or better. Living in the country for 8 weeks and studying 4 hours a day, graduates of the program are able to interact comfortably in day-to-day situations in the countries of the former Yugoslavia.
Advanced study abroad in Sarajevo, Bosnia and Herzegovina
Advanced BCS in Sarajevo is designed to help advanced students and heritage speakers reach professional proficiency.
Topics include:
discipline-specific terminology;
control of register (tone) in speaking and writing;
understanding indirect cultural references, non-verbal cues, and nuance;
learning to "read between the lines" in BCS.
Students will develop the advanced communication skills they need in order to become successful intercultural communicators and to function in a professional capacity.
COVID-19
There are numerous risks inherent in travel during a pandemic; students interested in this program should carefully review the COVID-19 information provided by the U.S. State Department (including the State Department's country-specific information) and the U.S. Centers for Disease Control and Prevention (including the CDC's country-specific information) to better understand the nature of those risks.
All participants should be aware of the following:
The host country, the airline or other transportation providers used, and the specific destinations visited on this program may have requirements regarding being vaccinated, showing proof of vaccination or a recent negative COVID-19 test, or (for the unvaccinated) spending time in a mandatory quarantine upon entry or taking additional precautions (such as wearing masks).

It is the responsibility of the student to satisfy any such requirements, and unvaccinated students who are subject to quarantine on arrival will need to make their own arrangements to arrive early and complete quarantine requirements at their own expense so they are ready to fully participate when the program begins.

Unvaccinated students may be unable to participate if the itinerary involves crossing a national border to a country that requires unvaccinated individuals to quarantine, as the program itinerary does not build in time to satisfy those requirements.

Similarly, unvaccinated individuals may not be able to participate in certain program activities, if those activities require proof of vaccination.

Vaccination, testing, and quarantine requirements change regularly; the State Department's

country-specific information may provide more specific information.
ASU is committed to taking all reasonable precautions to minimize our students' exposure to COVID-19 during their Critical Languages Institute program*. Such precautions may include:
Carefully monitoring COVID-19 travel restrictions to ensure, as much as possible, that students will be able to enter the program country;

Evaluating all program activities to ensure, to the maximum extent possible, compliance with ASU and local protocols for maintaining physical distance and face covering during all program activities**;

Providing an international insurance policy, including coverage for housing and meals expenses in case of mandatory quarantine/self-isolation due to direct exposure;

Establishing response procedures

to support students who receive a positive COVID-19 test during the program, who develop symptoms of COVID-19, or who have been directly exposed to an individual who has tested positive for COVID-19.
These precautions may change, or additional precautions may be adopted, based on the state of the pandemic at the time of the Program and/or the particular circumstances of the Program location(s).
We cannot emphasize enough how important it is to book tickets that allow for flexibility. Most airlines are offering this themselves, but be sure to read all fine print not only for ticket conditions, but also for any possible flight insurance you might purchase.
*Students should understand that it is possible to contract COVID-19 even if they follow all of the safety precautions and guidelines required by ASU and recommended by the CDC and other federal, state and local government health authorities.
**The Critical Languages Institute will enforce ASU's on-campus protocols to the maximum extent possible on this program, but students should understand that physical distancing requirements may not be enforceable in all program activities or on all modes of program transportation.
All participants in this program will be required to review and sign a COVID-19 Disclosure and a COVID-19 Behavioral Commitment (located in the CLI application). You can find additional information and resources on the COVID-19 FAQs, and we will communicate any updated or program-specific guidelines to you prior to travel.
Details
COURSE DATES
June 20th - August 12th, 2022
ACADEMIC CREDIT
2nd-Year: 8 credits of BCS 201/202
Advanced:  8 credits of SLC 494; "Advanced Mastery BCS Language Overseas"
ELIGIBILITY
Placement exam
CULTURAL PROGRAMS
Since the program is small, CLI customizes it to individual students. Excursion and activity schedules vary year to year, but have included:
Folk dance workshop
Sevdah Art House
Balkan films
Poetry workshop
Lectures and presentations
Svro's House
Historical Museum
Žuta tabija
Ilidža and the Bosna Headwaters
Cooking classes
Tunnel of Hope
Travnic, Jajce, Zavnobih Musuem
Mostar, Počitelj
LOCATION
Bosnia's administrative, economic, cultural, and educational center, Sarajevo is a compact, youthful city, boasting a number of museums, galleries, cultural centers, historic buildings, a national theater and opera, old markets, as well as a thriving art scene. There are notable architectural influences from the time Bosnia and Herzegovina was part of the Ottoman Empire, the Austro-Hungarian Empire, and the former Yugoslavia.
ABOUT THE PROGRAM
CLI's program in Sarajevo is a joint effort of the Arizona State University and Linguists Language and Culture Association.
Housing & Meals
HOUSING
Students live in a private apartment in central Sarajevo, which have a full kitchen. Optionally, students share their apartment with one or more local peers.
MEALS
Participants may cook for themselves in the full kitchens, or purchase food in local restaurants. Meal costs are not included in the program fee.
Funding
TITLE VIII FUNDING FOR GRADUATE STUDENTS  
The Department of State's Title VIII program funds graduate students with U.S. citizenship to study less commonly taught languages.
Title VIII provides fellowships of up to $10,000 for the study of BCS in CLI-Sarajevo. Past CLI Title VIII fellows can be awarded the fellowship up to two more times, for a maximum of up to 3 fellowship awards, as long as they maintain their graduate student eligibility.
Apply by January 24, 2022

 
MELIKIAN CENTER FUNDING FOR ALL PARTICIPANTS 
Supported by the Melikian Center's endowment and by private donations, the Melikian Center Awards Program provides scholarships of up to $4,000 for superior applicants to study BCS in CLI-Sarajevo.
ASU students, non-ASU students, teachers, and other non-students are eligible to apply for this funding.
Apply by January 24, 2022
THE BENJAMIN A. GILMAN INTERNATIONAL SCHOLARSHIP
The State Department's Gilman Scholarship provides awards of up to $8,000 for students in financial need to study abroad, including in CLI overseas programs. Gilman applications require certification of the program by your institution's study-abroad office.  If you apply for Gilman support, please contact cli@asu.edu for assistance in getting the required information to your institution.
Gilman summer study applications are accepted from August to October  and January to March. Please apply for the early competition, if possible, since applicants to the later competition will not learn their award status until after the deadline to commit to CLI study. Please contact cli@asu.edu for details on timing your Gilman application.

 
NEED-BASED FEE REDUCTION
The Melikian Center offers up to a $1,000 reduction of the published CLI program fee for qualified Pell-eligible students and non-students with an annual family income of $50,000 or less. This $1,000 reduction applies to Tempe-based or study abroad programs.
Unlike our other funding opportunities, this reduction does not require a separate application. Instead, you are only required to indicate your Pell eligibility on your general CLI program application in order to be considered for this fee reduction.
These fee reductions are limited. Not all who apply will be awarded.
To learn more about Pell or to see if you are eligible, please visit: https://studentaid.ed.gov/sa/types/grants-scholarships/pell
Costs
PROGRAM FEE
The CLI Sarajevo-based program fee of $5,500* covers: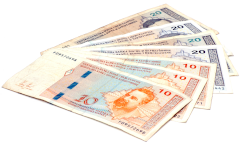 160 hours of instruction
8 academic credits
8 weeks housing in Sarajevo
excursions, talks, and cultural activities
cell phone
rides to and from Sarajevo airport
insurance
It does not include:
international travel
meals
local transportation
personal expenses
*All prices and descriptions on this page are subject to change. Participants are responsible for checking current prices and details before signing billing, housing, or meal contracts